iCare Home Health is pleased to bring you the October 2015 issue of our Newsletter, a great source of news and updates about healthy aging, community events and family caregiving. Please share this with your friends and family.
7 Steps to Staying Healthy During Flu Season
Whether you're planning on getting the FLU shot this year or opting out, it's not too late to learn how to stay healthy…naturally!
The best way to stay healthy naturally this upcoming flu season is to keep your immune system strong.
The easiest way to do this is to follow these simple guidelines:..
.Learn More
World Heart Day: Take Care of Your Heart Every Day

We all want to live a life that is free from heart disease and there are a lot of things that seniors can do each day to achieve that. The key is to make your heart a priority today so that you don't have to worry about it tomorrow.
Encourage the seniors that you are caring for to include these healthy habits into their day:…
Learn More
October 1st is National Seniors Day
The Government of Canada is proud to pay tribute to the seniors who have helped build our country and continue to make valuable contributions to Canadian communities, workplaces and society.
National Seniors Day is an occasion for all Canadians to appreciate and celebrate seniors. Below you will find tips and resources to celebrate the day and commemorate the seniors in your life.
Learn More
Infographic: Seniors outnumber Children in Canada for the first time!

For the first time, the number of persons aged 65 years and older exceeds the number of children aged 0 to 14 years!
There isn't a more pressing time to press for a National Health Strategy. Ask your local party candidate on your party's position on the issue.
See Infographic here
a Nominee for the
2015
Oakville Awards
FOR BUSINESS EXCELLENCE
The OABE is a program of the Rotary Club of Oakville West in partnership with the Oakville Chamber of Commerce recognizing local entrepreneurs and businesses for the invaluable contribution they make to the Oakville community.

The OABE gala dinner will take place on March 23, 2016
"We are grateful to a our team members who work hard everyday and are committed in heart and mind to live
our brand values
to deliver the best care possible to our clients. The nomination is a beautiful gesture in recognition of our
Make a Difference
effort in the communities where we live and serve. We are looking forward to hopefully winning our category
Professional Service Provider of the Year Award
", says Rick Menassa, President, iCare Home Health.
Spotlight on Technology
How 3D Printing is Driving Innovation to Medical Specialties
Some have claimed that the advance of medical (and computer) technology is progressing at a rate faster than the human mind can assimilate.
3D printing is simply two-dimensional printing built upwards. The most exciting aspect of 3D printing involves is the promise of healthcare solutions so tailored to the individual, only "personalized medicine"-dependent on individual gene sequencing-can compete. Read more
In Our Community
Brain Injury Society of Toronto 5K Run/ Walk
Calling all heroes of
Brain Injury
. The BIST Run is just days away but there is still time to register
Whether you are a survivor, family member, caregiver, healthcare or legal professional, you are a hero of brain injury.
Date: Saturday October 3rd, 2015
Location: Wilket Creek Park, Toronto
Time: 10:00 am
Register Now
Interested in seeing the new Oakville Trafalgar Memorial Hospital before it opens?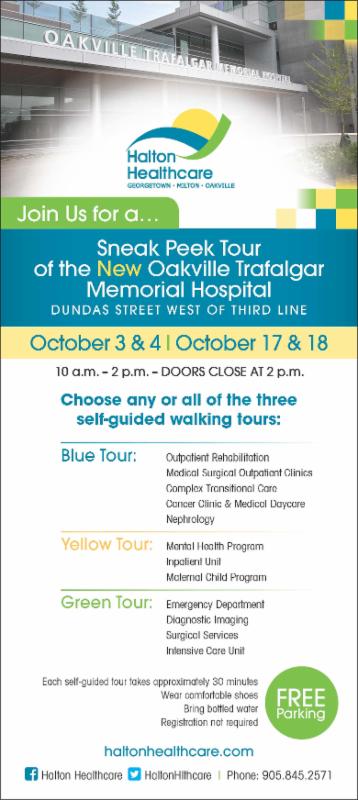 Business of Aging: Information Exchange Network after hours networking meeting
Join BA:IEN members at a unique mix & mingle with other business and industry leaders whose focus is on the flourishing older adult market.
When:
Wednesday, October 28, 2015
After hours meeting 5 p.m. to 7 p.m.
Where:
Sheridan College Trafalgar Campus
The Marquee Pub
1430 Trafalgar Road, Oakville
RSVP: By October 22 to Kathryn Warren-Norton at (905) 845-9430×2978 or
email at kathryn.warrennorton@sheridancollege.ca
iCare Therapeutic Art Program (TAP)
Expressive art making can have a therapeutic effect on a person's health. This basic premise is the foundation on which we have developed the Therapeutic Art Program (TAP) as part of the iCare Cognitive Stimulation support service. The program is facilitated by an Artist in Residence who is a practicing artist with graduate level training in art therapy…
Learn More
iCare Home Health
and iCare Navigator endeavour to provide our clients the tools to help meet their varied health care needs. The services on the resources page are offered by community (private or non-profit), provincial or national agencies and could be accessed separately or in different combinations based on patient and family needs.
However we also know that every situations is different, and you may require iCare Navigator services to assess your personal situation!
Nominal service fees maybe applicable for iCare Navigator support services. For more information, please complete and submit the "Contact an Advocate" form on this page.
Our Services
Burlington, Oakville, Mississauga, Milton, Georgetown and Toronto
Call for a Free assessment